Global Responsibility & Sustainability
Through responsible, sustainable business practices and our commitment to giving back, we care for the communities and markets where we live and operate our business. Our Global Responsibility & Sustainability strategy at Nielsen includes all environmental, social, and governance (ESG) issues that affect our business, operations, and all internal and external stakeholders.
Non-Financial Materiality Assessment
In 2016 and 2017, we updated our non-financial materiality assessment, using the original findings from our first assessment conducted in 2014 and 2015 as a starting point. As it was before, our intentions in opening up the non-financial materiality process to all stakeholders is to incorporate this feedback into our overall processes, business strategy, and corporate responsibility and sustainability programs. Beyond seeking to better understand how stakeholders view Nielsen today, we also used the feedback to identify potential risks and opportunities both generally and in terms of our ESG goals, and any emerging issues that could affect Nielsen's business success and stakeholder relationships in the future. Good governance, trust, and a commitment to transparency came up as dominant themes throughout this process. Our willingness to seek inputs from all stakeholders is aligned with Nielsen's overarching values of being open, connected, useful, and personal. This updated assessment follows the guidance provided by the Global Reporting Initiative's new Standards, formally introduced in 2016. Click on each area below to learn more about the feedback we received from stakeholders, as well as our approach to each area, including our long-term goals.
Top Issues Identified by the Non-Financial Materiality Assessment
Supplier
Accountability
Energy,
Travel & Waste
Community
& Social Impact
Employee
Relations
Diversity
Representation & Inclusion
Data Privacy,
Security & Integrity
Future-Focused
Leadership & Innovation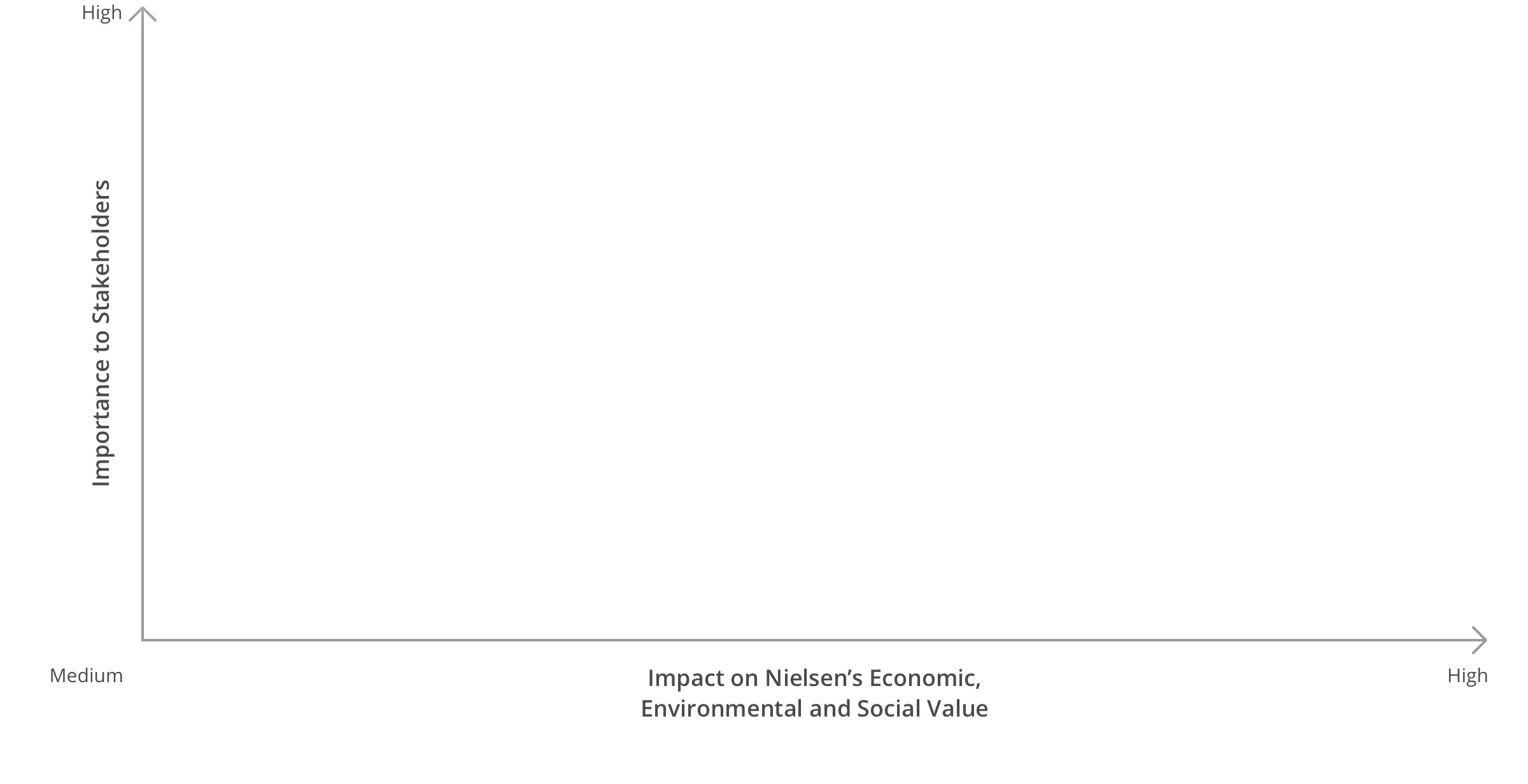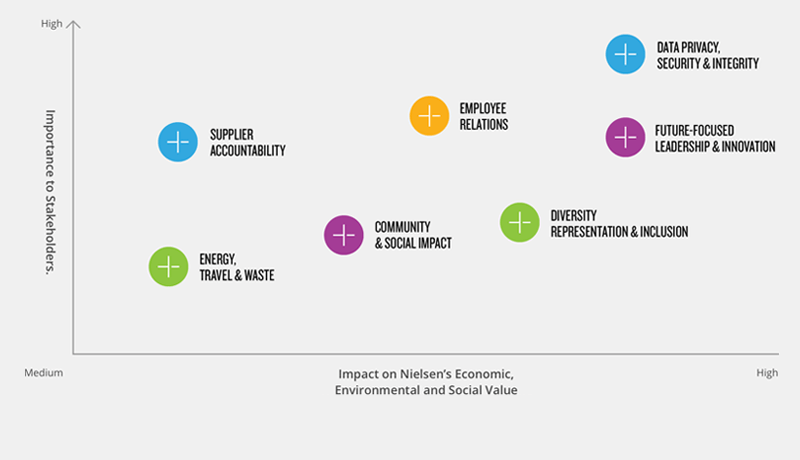 More information about our ongoing stakeholder engagement efforts and our global ESG approach can be found in our Nielsen Global Responsibility Report, published in May 2016. At Nielsen, we broadly define corporate responsibility and sustainability across the relevant ESG aspects of the company, including but not limited to the impact of our efforts related to Global Responsibility & Sustainability, Diversity & Inclusion, Human Capital Development, Supply Chain Sustainability, and our overall business performance cutting across all teams, geographies, and functions.
2016 Highlights
Published first Nielsen Global Responsibility Report
Joined Sustainable Purchasing Leadership Council
Advanced to No. 41 on DiversityInc's Top 50 Companies for Diversity
Included on Fortune's list of 100 Best Workplaces for Millennials and 50 Best Workplaces for Diversity
Impact by the Numbers
23,000+ employees participated in Nielsen Global Impact Day with 1,400+ volunteer events for 900 nonprofits in 92 countries
26,000+ employees participated in Earth Week 2016 activities
Reached $11.8 million donated in-kind through data, products, and skills-based volunteering, surpassing global annual pledge of $10 million
Recycled 129,000+ pounds of company e-waste
RESPONSIBLE PRACTICES AND REPORTING

Connecting Our Business with Relevant Environmental, Social and Governance (ESG) Issues

Nielsen Cares

Volunteering Our Skills and Time

Nielsen Green

Managing Our Impact on the Environment

Data for Good

Sharing Consumer Insights and Data with the World
SNAPSHOTS OF OUR $10 MILLION+ PRO BONO GLOBAL IMPACT
California
Analyzed 1 million+ downloads of accessible books to help nonprofit better reach schools and users
Europe
Surveyed 2,000+ apprentices, employers, and education providers to measure success of youth apprenticeship programs across network of 200 companies
Philippines
Completed 69 hours of computer literacy training by 18 volunteers for a children's nonprofit
Florida
Mobilized 70 volunteers to deliver 5,300 pounds of e-waste for recycling
South Africa
Packed and delivered 5,120 meals for Hunger Action Month
Singapore
Interviewed 179 nonprofit beneficiaries and analyzed survey results to enable nonprofit to better optimize their program offerings
Priority Areas
| | | | | |
| --- | --- | --- | --- | --- |
| | | | | |
| Hunger & Nutrition | Technology | Education | Diversity & Inclusion | Sustainability |
Priority Areas
| | | |
| --- | --- | --- |
| | | |
| Hunger & Nutrition | Technology | Education |
| | | |
| Diversity & Inclusion | Sustainability | |